Menagerie (Menagerie #1),
by
Rachel Vincent
Publication:
September 29, 2015, by MIRA
Genre:
Adult Fiction, Fantasy
Pages:
432
Format:
Hardcover
Source:
Borrowed
Rating:
When Delilah Marlow visits a famous traveling carnival, Metzger's Menagerie, she is an ordinary woman in a not-quite-ordinary world. But under the macabre circus black-top, she discovers a fierce, sharp-clawed creature lurking just beneath her human veneer. Captured and put on exhibition, Delilah in her black swan burlesque costume is stripped of her worldly possessions, including her own name, as she's forced to "perform" in town after town.

But there is breathtaking beauty behind the seamy and grotesque reality of the carnival. Gallagher, her handler, is as kind as he is cryptic and strong. The other "attractions"—mermaids, minotaurs, gryphons and kelpies—are strange, yes, but they share a bond forged by the brutal realities of captivity. And as Delilah struggles for her freedom, and for her fellow menagerie, she'll discover a strength and a purpose she never knew existed.

Renowned author Rachel Vincent weaves an intoxicating blend of carnival magic and startling humanity in this intricately woven and powerful tale.
My Thoughts:
I always find myself attracted to books that involve the wonderful, but perhaps childish concept called the circus. I have been to a circus twice, and I really see a lot of amazement when looking at the way the show is actually prepared. Menagerie gave me that experience, amazingly, but in a way that no audience would ever expect to see in a modern, contemporary society. Who would expect people to go watch... monsters and mythological creatures?
Yes, you heard me correctly. Rachel Vincent writes about monsters living in this "world" we call the menagerie, and there's basically every kind you have been afraid of or have heard of. Yes, mermaids and werewolves are present, and they're all held in cages, where people in this novel go out and see them, seeing what they are capable of and how they look, because some definitely have human distinct physical features. It's a brilliant concept that is really difficult to come up with and broaden... and I'm not so sure if the author did the best job ever with the broadening part, but I'll let you know now that the concept is my most favourite part of the whole book.
"You are normal. You are human. You are ours. The memory of my mother's bedtime mantra played through my head as it always had in moments of fear and doubt since I was a small child. It had never in my life felt more relevant. Or more like a total lie." (57)
This book was pretty well written, and I definitely enjoy reading Vincent's writing style. She writes like she's part of the audience of this circus, not like she's pretending for it to be real or something of that sort. Yes, there are many different protagonists and perspectives which she is writing from, but everyone is distinct, not only with their physical features but their issues that they are dealing with as they are in the menagerie. This is absolutely messed up.
And the author also makes it sound extra real because she adds in quotes that have supposedly taken place in the 1980s, not some wild dystopian time like the 2300s or whatever. You could seriously imagine this taking place in society today, or in the past. You feel like you could turn on the news and see headlines about the characters, Delilah or Rudolph escaping or creating some chaos. It is rare to read a novel with such depth and realism to it, and I am grateful to have given this start to an extraordinary series a try.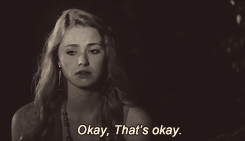 So with these kinds of books, and with any other kind that deals with a bunch of unreal characters, there's always the one soul who is different from the rest. In this case, she is supposed to be a human. Delilah heads to the menagerie with her family, striving to see something new and see the different ways that some creatures live. And then she discovers that she's just like them, and next thing you know, she's put in a cage and is ready to say goodbye to the life that she once had.
"Fear is a powerful, often irrational emotion, and mass fear on the scale of what followed the reaping has the power to shake any society to its core. As long as the world remembered, they would live in fear of all cryptids—regardless of whether or not any individual among us was truly dangerous." (186)
No, there's no romance. And I guess that this is partially adult as the characters are not the age of teenagers, but there isn't anything that really breaks apart the two. If you enjoy adult novels, go for this and vice versa for YA. This is seriously a book for everyone.
Menagerie really made me feel like I was living in a cage. It's a brilliant novel that was fast-paced at first, and then kind of bored me after, but I enjoyed it either way. I do not know if I will end up picking up the sequel, but I am glad for this experience and the ability that I got to read Rachel Vincent's newest story. Plus, the cover is stunning and I'm pretty sure it's calling out to you.
Have you ever read a book that takes place in a circus? What do you think of the concept of this novel?