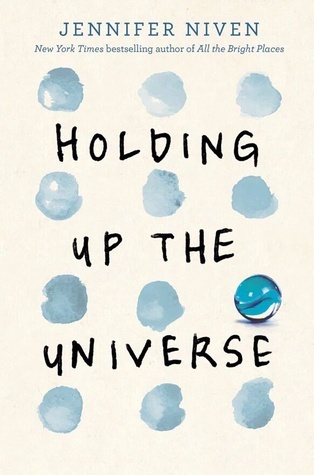 Holding Up the Universe,
by
Jennifer Niven
Publication:
October 4, 2016, by Knopf BFYR
Genre:
Young Adult Fiction, Contemporary, Romance
Pages:
400
Format:
ARC
Source:
BEA/Publisher
Rating:
Everyone thinks they know Libby Strout, the girl once dubbed "America's Fattest Teen." But no one's taken the time to look past her weight to get to know who she really is. Following her mom's death, she's been picking up the pieces in the privacy of her home, dealing with her heartbroken father and her own grief. Now, Libby's ready: for high school, for new friends, for love, and for EVERY POSSIBILITY LIFE HAS TO OFFER. In that moment, I know the part I want to play here at MVB High. I want to be the girl who can do anything.
Everyone thinks they know Jack Masselin, too. Yes, he's got swagger, but he's also mastered the impossible art of giving people what they want, of fitting in. What no one knows is that Jack has a newly acquired secret: he can't recognize faces. Even his own brothers are strangers to him. He's the guy who can re-engineer and rebuild anything in new and bad-ass ways, but he can't understand what's going on with the inner workings of his brain. So he tells himself to play it cool: Be charming. Be hilarious. Don't get too close to anyone.
Until he meets Libby. When the two get tangled up in a cruel high school game—which lands them in group counseling and community service—Libby and Jack are both pissed, and then surprised. Because the more time they spend together, the less alone they feel. . . . Because sometimes when you meet someone, it changes the world, theirs and yours.
Jennifer Niven delivers another poignant, exhilarating love story about finding that person who sees you for who you are—and seeing them right back.
My Thoughts:
You can call me the world's biggest All the Bright Places fan ever. When I discovered the beautiful Jennifer Niven's debut novel last year, I went on a huge expedition to purchase it. I did, and my world fell apart in the best way ever. I cried like a maniac or psycho person, unable to contain my feelings and just making all of my blanket wet. Looking back, that was a chaotic, beautiful day. It still stands as my most favourite book (alongside some, because you can NEVER have ONE favourite book), and then I discovered Holding Up the Universe. I NEEDED MORE OF JENNIFER'S WRITING, and hearing that this would be her second novel made the world a better place, for sure. I then was so fortunate to meet Jennifer at BEA and have her sign a copy of this beauty to me, and I knew that I wanted to read this book during a special time. I decided that I would pick it up on the plane back home from an amazing trip of a lifetime, and boy, that was the best time to pick this up. I devoured it pretty instantly.
Holding Up the Universe was in no way similar to ATBP, and it was nowhere as good as the book that stole my heart. The same thing happened with a similar's writer's work, Nicola Yoon. (Fact: I didn't enjoy her second novel.) I really enjoyed this one, minus the fact that ATBP was perfection. Written in a similar style to All the Bright Places, with alternating perspectives of a boy and girl who are obviously destined to fall in love (with so many heartbreaking and amazing moments in between), I could definitely glue the similarities together. But then, at the same time, there are so many differences, especially when you look at the characters and their own struggles. I love how Jennifer wrote this for her fans who are struggling in similar ways that our two protagonists, Libby and Jack, are, and I love how she based some of the struggles off of her own struggles in the past. Every person who reads this could definitely relate to one thing or another in this magnificent story.
Libby and Jack seemed like polar opposites of each other, when I first began reading this. Libby has been labelled as "America's Fattest Teen," but over the years, she has gotten better with her excessive eating. She has lost so much weight after working hard and limiting herself to cravings. Since fifth grade, she has been homeschooled, and since then, crazy things have happened that she never wants to look back at. She has been cut out of her house by firefighters, has made imaginary friends with the boys who lived across the street, she has mourned her mother, who died of cancer, but most importantly, she has put a goal for herself: to be ready to go back to high school. Once there, she constantly gets laughed at, but she's so strong. Strong enough to hold her feelings inside until she meets Jack, who also has his own secret (he has prosopagnosia, where he doesn't recognize the faces of people who he should recognize), in the weirdest way. She punches him, but they both end up getting in trouble, but this is just the start of a friendship/relationship (whatever you like to call the initial phases) that readers will never forget about.
For the second time in a row, Jennifer Niven writes about subjects that readers rarely (or never) get the chance to read about. We have two contrasting characters—Libby and Jack, who I completely adored. My favourite thing about the whole story is learning about Jack's prosopagnosia. Prior to reading, I have never heard of this direct term, and have never heard/read about someone who has it. It has never been brought to my attention. Most likely, somewhere in my head, I believed that some condition like that existed, but it never really hit me. Reading Jack's perspective was something absolutely new and I know that I will never get an experience like that ever again. There is also so much diversity throughout the whole story. Jack is African-American (or half, I think) and I just appreciated that so much. There are so many different things about this book that most contemporaries never touch upon.
(The only thing I didn't really enjoy was the slow moments of the plot where I kind of got bored. That could be because of my flight's distracting entertainment options, too. Just kidding, Jen Niven's writing is always more entertaining than anything else. Am not kidding about the occasional boredom I experienced.)
What I don't get is the whole craze that previously went up over this story. People labelled Jennifer as being offensive to overweight people, but I never saw anything wrong as I read through the story. Sure, I disliked moments of this book where EVERYTHING was geared towards Libby being overweight, but that just came from Libby's character and her occasional insecurity. There is nothing offensive, period. Why would someone even think that about Jennifer's writing? As always, she puts her heart and soul into the whole story, making it the most beautiful, emotional and moving possible. The thing we have to remember is that this is for her fans. This book is for everyone who has ever struggled, and I completely felt that dedication as I was reading.
Jennifer's writing, as usual, added light humour here and there that occasionally made me laugh out loud and feel like I'm enjoying this so much. I enjoyed all of it. Some people are against romanticizing people with mental illnesses, but this is exactly what Jennifer Niven is amazing at. That is why her books are special and different. I would seriously be dying right now if I wasn't able to read this yet. WHAT AN AMAZING OPPORTUNITY.
Libby and Jack are completely beautiful together. Jibby? Lack? They are the best. I love how they are together and how they have an even better connection because of their personal demons. I now just want to know how they are doing after the book, if you know what I mean.
Holding Up the Universe is a beautiful story that has still left me breathless. It's like a prized possession for me, and its message is extremely powerful. With beautiful characters, diversity, real-life issues (some that we have never heard/read about, ever), a beautiful ending and attachment to the characters, leaving us wondering what they are doing at this very moment, this is just unforgettable. Thank you, Jennifer!
*A review copy was provided by the publisher via BookExpo America in exchange for a honest review. Thank you so much!*
What do you think of Jennifer Niven's writing? What are your most anticipated contemporaries for the rest of the year?